When did you open your business and can you tell us a little bit about it?
We opened Asahda's in December of 2020. We're a soul food restaurant, I think the only one in Morris County. Everything that goes on my menu is made with love, and my heart is in everything I do. Walk through my doors and your mood will improve, I promise. We've also got great plans for the future – everything from live bands in the courtyard to cooking classes for the whole family.

What made you decide to open a business during the pandemic?
Opportunity knocked and I went for it. I was teaching in Irvington when the pandemic hit. I owned a restaurant in Newark years ago, and had always done catering on the side. In September 2020 I was taking a walk through Chatham, and noticed how many empty storefronts there were. I saw the one that I now call home, and got in touch with the owners. As soon as I walked through the door, I was sold. Between the space itself, the courtyard, and all the parking, I knew it was perfect. 
What made you choose Chatham?
I live in Florham Park, so I know the area well. It's a nice town, and needed something a little different – exactly what I wanted to provide. And here I am, one year later, still thrilled to be here! I can't thank the community enough for the warm welcome they provided.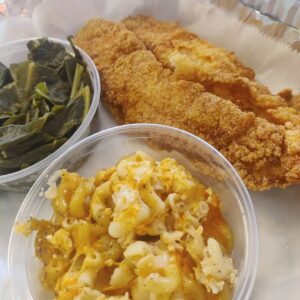 What have you learned over the last year? What did you do differently because of what was going on in the world?
Opening a soul food restaurant in Chatham was a huge thing – a first for this area. It's been wonderful introducing folks in town to the food that I love. The pandemic made staffing much harder than usual, so I've been doing more myself. I have had to work a lot harder than I ever thought I would, but it's completely worth it. Everything I work for is done with my blood, sweat and tears. It hasn't been easy, but I won't give up and I know better days are ahead for all of us.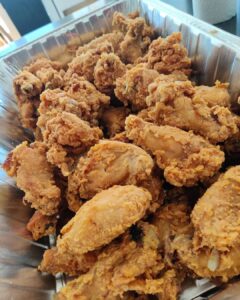 Do you have any advice for someone thinking of opening a business during these crazy times?
If you think it's the right time, go for it, and be prepared to work for it. I wouldn't change a thing, even if it has been a crazy year. It's all made me a much better, stronger person. I've always had great faith in anything I'm doing, and that has only increased. God is good – you've got to stay strong and have faith. Beyond that, just be kind. In the midst of everything you are going through, you've got to be kind. That will make a huge difference to others, but also to yourself. I really believe that all the kindness we put out in the world comes back to us.
Asahda's Soulfood Restaurant
262 Main Street, Chatham, NJ
IG: @asahdassoulfoodrestaurant